Activities

Presents for St. Nicola's Day

Gymnasium Student Council has for the first self-reliantly organized collection of the presents for St. Nicola's Day intended for children in the Rehabilitation Hospital 'Dr. Miroslav Zotovic'. The Gymnasium students show generosity during the time of the action, thus we have collected 80 presents that cheered up kids at the Rehabilitation Hospital. more

Book fair
Book fair is organized every year in Banja Luka and it is one of the biggest book fairs in southeastern Europe. Gymnasium found its place on this fair and it is the only high school in Banja Luka that has had its place on the Book fair since 2004. Gymnasium's first performance on Book fair was in 2004 and we repeated the success in 2005 and this year as well. During the fair days, we presented and promoted our teachers' books, held various round tables and presented its educational work to the fair visitors. The role of Gymnasium Student Council in preparing and realizing the performance is indispensable, beginning from the election of the students who participated in the presentations, media appearences with our teachers to defining the schedule of events on the Fair. You can find more information about the Gymnasium's performance on the Banja Luka Book Fair on following web-sites: Banjaluka Gymnasium on Book Fair 2004, Banjaluka Gymnasium on Book Fair 2005 and Book Fair '06.
Inost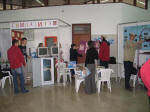 Beside the Book fair, the GSC together with our teacher Zeljko Grbic organizes the Gymnasium's performance on INOST, i.e. Innovations fair in Banja Luka. It's a unique opportunity for young people to show their knowledge and skills, and Gymnasium gives a huge contribution to raising the standards and quality of INOST. About Gymnasium's performances in 2004. and 2005. you can read at given links.
One sweet - one child
Humanitarian and voluntary action One sweet – one child is organized by Youth Communication Center every year in cooperation with the educational organizations. The sweets are collected and later presents made for children from poor families or for children without parents. The Gymnasium Student Council is in charge of the action for Gymnasium and we can proudly say that we've participated in the action from its very beginning.
High School Students Day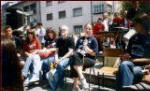 High School Students Day in Banja Luka is conjointly organized by the student councils of high schools in Banja Luka joined in Banja Luka High School Students Union (BLUS). On the HS Students Day, the students gather at the Banjaluka's central square, Krajina Square, where each school makes its performance. 2004 2005
Project Old - Young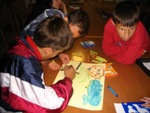 Student council has organized a project Old - Young during the first half of Mai in coordination with Youth communication centre. more
Career day
Another activity directed by the Gymnasium Student Council has been Career Day for the Primary School students. They had the opportunity to find out more about their further education and our school. photos
Senior Year School Trip
The Student Council takes part in organisation of the Senior Year school trip. This year, the students have traveled across the Southern Europe and they visited cities in Italy, France, and Spain and also visited Monaco. photos